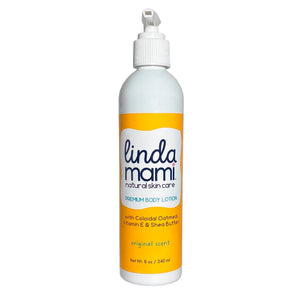 Descripción en español disponible abajo. 
Linda Mami Natural Skin Care is an award-winning, Latina-owned brand delivering superior maternity products since 2011.
Our Premium Body Lotion offers rapid relief for dry and itchy skin through its exceptional moisturizing and soothing benefits. Its smooth and rich consistency delivers long-lasting hydration, leaving skin feeling supple. For optimal results, apply generously to the entire body or areas of skin irritation, applying light circular motions.

MADE WITH NATURAL INGREDIENTS SUCH AS 
Aloe Vera Juice

Cucumber Water

Virgin Coconut Oil 

Shea Butter
Calendula Oil 
Copaiba Balsam 
Colloidal Oatmeal 

Cosmetic Grade Vitamin E
Zinc Oxide 

HIGHLIGHTS 
Nourish, moisturize & soothe 
Great for itchy skin
Use during pregnancy and post-natal care
With colloidal oatmeal & zinc oxide
This is a vegan friendly product free of parabens, phthalates and bisphenol A
DIRECTIONS
Apply to itchy or dry skin giving gentle massage. 
PRECAUTIONS
For external use only. In case of irritation discontinue use immediately. This product is not intended to cure or treat any illnesses. Keep out of the reach of children. Do not use around breast during breastfeeding.
----------------------------------
Linda Mami Natural Skin Care es una marca galardonada desarrollada por una empresaria latina que ofrece productos de maternidad de primera calidad desde 2011.
La Loción Corporal Premium ofrece alivio para la piel seca y con picazón a través de sus excepcionales beneficios humectantes y calmantes. Contiene ingredientes como avena coloidal, aceite de caléndula, agua de pepinillo y mantequilla de Karité, lo cual la hace una loción de textura suave y rica. Proporciona una humectación duradera, dejando la piel tersa.
HECHO CON INGREDIENTES NATURALES COMO
Jugo de aloe vera

Agua de pepinillo

Aceite de coco virgen 

Manteca de karité
Aceite de caléndula 

Bálsamo de copaiba

Avena coloidal 

Vitamina E de grado cosmético 

Óxido de zinc 
PUNTOS DESTACADOS 
Poderosas propiedades nutritivas y suavizantes
Excelente para piel irritada y con picazón 
Usalo durante el embarazo y etapa postnatal 
Hecha con avena coloidal y óxido de zinc 
Esto es un producto vegano libre de parabenos, phthalates y bisfenol A. 
DIRECCIONES DE USO 
Aplícala sobre la piel dándote un masaje con suaves movimientos circulares. Úsala al menos dos veces por día. 
PRECAUCIONES
Solo para uso externo. En caso de irritación discontinue su uso inmediatamente. Este producto no está diseñado para curar o tratar ninguna enfermedad.  Manténgalo fuera del alcance de los niños.