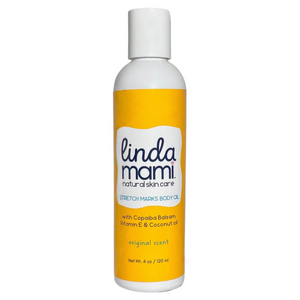 Descripción en español disponible abajo. 
Linda Mami Natural Skin Care is an award-winning, Latina-owned brand delivering superior maternity products since 2011.
Our Stretch Marks Body Oil has exceptional quality natural ingredients, which aid in moisturizing, nourishing, and increasing elasticity to help avert the formation of stretch marks and soothe dry, itchy skin.
Hundreds of pregnant moms have observed positive results with Linda Mami Stretch Marks Body Oil, including those with multiple pregnancies.
MADE WITH NATURAL INGREDIENTS SUCH AS 
Virgin Coconut Oil 
Almond Oil 
Rice Bran oil 
Copaiba Balsam
Cosmetic Grade Vitamin E
Vegetable Glycerin
HIGHLIGHTS 
Nourish, Moisturize & Soothe 
Use it with a Nourishing Body Balm 
Great for pre-natal massage
Use during pregnancy and post-natal care
Shake well before each application 
Fast absorption and non-sticky feeling
This is a vegan friendly product free of parabens, phthalates and bisphenol A
DIRECTIONS
Shake well before using. Apply to skin giving a gentle circular massage. Use at least twice a day. 

3 STEPS (COMPLETE) SKIN CARE ROUTINE 
Massage Stretch Marks Body Oil gently onto skin in circular motions twice daily, taking care to focus on the belly, breast area, and lower back. Ensure product is shaken well prior to application.
Apply Nourishing Body Balm 10 or 15 minutes after using our Stretch Marks Body Oil this will create a protection barrier over your skin boosting nourishment and moisturizing properties. 
Gently massage Premium Body Lotion onto skin with the palm of your hand to moisturize and soothe itchy skin, whenever necessary. 
PRECAUTIONS
For external use only. In case of irritation discontinue use immediately. This product is not intended to cure or treat any illnesses. Keep out of the reach of children. Do not use around breast during breastfeeding.
-------------------------------------------------
Linda Mami Natural Skin Care es una marca galardonada desarrollada por una empresaria latina que ofrece productos de maternidad de primera calidad desde 2011.
Nuestro aceite corporal tiene ingredientes naturales de alta calidad, que ayudan a suavizar, nutrir y apoyar el proceso de estiramiento de la piel. Sus altas propiedades emolientes mantendrán tu piel humectada y con menos picazón. Cientos de mamis embarazadas han observado resultados positivos, incluidas aquellas con embarazos múltiples. Debes agitarlo bien antes de cada aplicación y usarlo por lo menos 2 veces al día.
HECHO CON INGREDIENTES NATURALES COMO
Aceite de coco virgen

Aceite de almendras

Aceite de cebada de arroz

Bálsamo de copaiba

Vitamina E de grado cosmético

Glicerina vegetal 
PUNTOS DESTACADOS 
Excelente para la prevención de estrías

Úsalo junto a nuestro bálsamo nutritivo 
Poderosas propiedades nutritivas y suavizantes

Excelente para masajes prenatales 
Usalo durante el embarazo y etapa postnatal 
Agítelo bien antes de casa aplicación 
Rápida absorción y no se siente pegajoso. 

Esto es un producto vegano libre de parabenos, phthalates y bisfenol A. 
DIRECCIONES DE USO 
Aplícalo sobre la piel dándote un masaje con suaves movimientos circulares. Úsalo al menos dos veces por día. 

RUTINA COMPLETA PARA EL CUIDADO DE LA PIEL  (3 PASOS) 

Masajee el aceite corporal sobre la piel utilizando suaves movimientos circulares, al menos dos veces al día. Atienda bien las áreas del abdomen, senos y espalda baja. Asegúrese de agitar el producto bien antes de cada aplicación. 
Aplique el bálsamo nutritivo 10 o 15 minutos luego de usar el aceite corporal para la prevención de estrías. Esto creará una capa protectora sobre la piel y aumentará la propiedades nutritivas y suavizantes.  
Masajee la loción corporal sobre la piel utilizando la palma de su mano para suavizar, calmar y aliviar el picor, siempre que sea necesario. 
PRECAUCIONES
Solo para uso externo. En caso de irritación discontinue su uso inmediatamente. Este producto no está diseñado para curar o tratar ninguna enfermedad.  Manténgalo fuera del alcance de los niños.