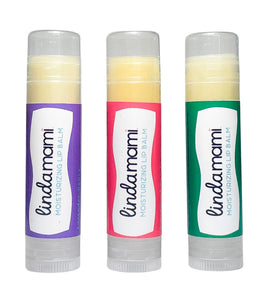 Descripción en español disponible abajo. 
Linda Mami Natural Skin Care is an award-winning, Latina-owned brand delivering superior maternity products since 2011.
Our moisturizing lip balms are a great way to protect and nourish your lips keeping them looking healthy and youthful. They are design to hydrate and soften lips by locking in moisture and providing essential nutrients. 
SAVE 15% WITH THIS BUNDLE THAT INCLUDES
1 Lavender Honey Moisturizing Lip Balm 
1 Grapefruit Patchouli Moisturizing Lip Balm 

1 Peppermint Basil Moisturizing Lip Balm (sweet basil) 

MADE WITH NATURAL INGREDIENTS SUCH AS 
Cocoa Butter

Virgin Coconut Oil 
Golden Jojoba Oil 

Candelilla Wax
Pure Essential Oils
Cosmetic Grade Flavor Oils 

HIGHLIGHTS 
Moisturizing and nourishing properties 
Keep lips looking healthy 
Made with top quality butters and oils 
DIRECTIONS
Apply to lips whenever necessary
PRECAUTIONS
For external use only. In case of irritation discontinue use immediately. This product is not intended to cure or treat any illnesses. Keep out of the reach of children. Do not use around breast during breastfeeding.
-------------------------------------
Linda Mami Natural Skin Care es una marca galardonada desarrollada por una empresaria latina que ofrece productos de maternidad de primera calidad desde 2011.
Nuestros bálsamos labiales humectantes son una excelente manera de proteger y nutrir tus labios para que se vean saludables y juveniles. Diseñados para hidratar, y suavizar los labios reteniendo la humedad y proporcionando nutrientes esenciales.
AHORRA 15% CON ESTE COMBO QUE INCLUYE
1 bálsamo labial de lavanda con miel 
1 bálsamo labial de toronja con patchouli 

1 bálsamo labial de menta con albahaca dulce  
HECHO CON INGREDIENTES NATURALES COMO
Manteca de cacao 
Aceite de coco virgen

Aceite de jojoba dorada

Cera de candelilla  

Aceite esenciales puros

Aceites de sabor de grado cosmético 
PUNTOS DESTACADOS 
Humecta y suaviza

Mantén los labios luciendo saludables 

Hechos con mantequillas y aceites de alta calidad 

DIRECCIONES DE USO 
Aplícalos sobre los labios cuando sea necesario 
PRECAUCIONES
Solo para uso externo. En caso de irritación discontinue su uso inmediatamente. Este producto no está diseñado para curar o tratar ninguna enfermedad.  Manténgalo fuera del alcance de los niños.